The leaders in percussive therapy have teamed up with the leaders in custom golf club fitting.
Club Champion is now an official retailer for Therabody and its Theragun percussive therapy devices. The Theragun PRO, Prime, Elite and Mini variations will be available at 40 Club Champion locations across the nation.
Because Therabody has such an engaged interest in benefitting the health of golfers, Club Champion saw a perfect fit. By implementing the health benefits of stretching and percussive therapy with Theragun, a trip to a Club Champion studio can now get you the best fitting golf clubs, a better scorecard and a healthier lifestyle, too.
"There's more to the game of golf than just your equipment," said Club Champion founder, Nick Sherburne. "For years, we've been the industry leaders in custom club fitting; now, with Therabody, we can help improve the golf experience on the course and off."
Theraguns can be beneficial in many areas of your life, but on the golf course specifically, the deep muscle treatment primes the body for precision, performance and even a more powerful swing. Theragun was designed to help break through stiffness, address painful Golfer's Elbow and keep the body feeling fresh from the first hole to the last.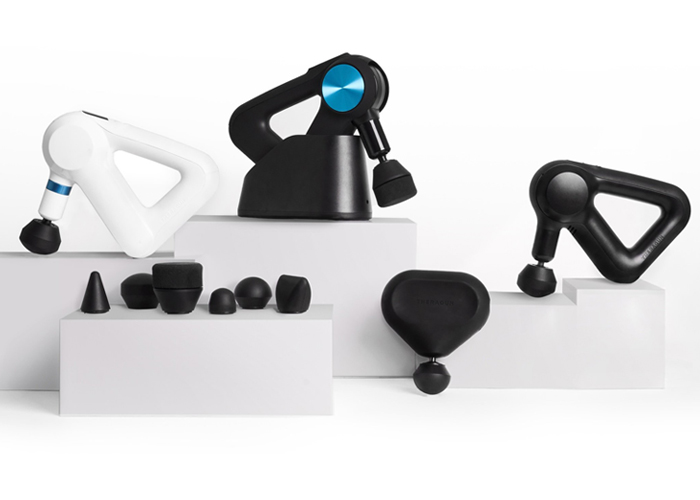 Key features for each Theragun model include:
Pro
A silent motor equipped with QuietForce Technology
Adjustable arm for full-body reach
Delivers up to 60 lbs of no-stall force
6 interchangeable head attachments
Elite
A brushless motor equipped with QuietForce Technology
Delivers up to 40 lbs of no-stall force
5 interchangeable head attachments
Prime
A brushless motor equipped with QuietForces Technology
Delivers up to 30 lbs of no-stall force
4 interchangeable head attachments
App-guided routines
Mini
A brushless motor equipped with QuietForce Technology
Ultra-portable
Ergonomic grip with standard ball attachment
Whether you need it for performance or recovery, Theragun will help you move, feel and play better.
For more info or to find a Therabody Club Champion location, head to clubchampiongolf.com.